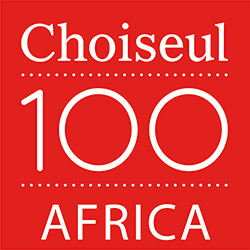 Be a candidate for the Choiseul 100 Africa 2021 ranking!
Since 2014, the Institut Choiseul has been honouring young African leaders who are working towards Africa's economic development with the Choiseul 100 Africa.
Produced in complete independence, this ranking aims to highlight the driving forces behind Africa's dynamism and to build day after day a continent turned towards the future and opened to the world.
Whether they are leaders of successful companies or influential institutions, successful entrepreneurs, investors, and innovators, they embody the excellence and renewal of an entire continent and carry the hopes of a whole generation.
Young leaders who would like to be part of the Choiseul 100 Africa 2021 and join the Choiseul Africa family are invited to apply before 07 July 2021!
Eligibility criteria:
Hold the nationality of one
of the 54 African States
Be 40 years or younger
by 31 December 2021
Be an active contributor to
Africa's economic development